PROPER BEHAVIOR, AT ALL TIMES
Whether you are in the city or in the great outdoors, knowing how to behave is just as important. You wouldn't be very impressed if you saw someone throw their bottled water or garbage on the ground while walking down the street. Try to wait until you come across a trash can or put it in your bag until you can dispose of it properly.
The same goes when we're on a river, where we have a direct impact on the environment as move through wildlife's natural habitat. Please dispose of all your garbage properly and don't leave anything behind after you've been on the water.
With the ministère des Forêts, de la Faune et des Parcs (MFFP), we have create a full guide to help every angler in his way to learn or to refresh his memory about fishing techniques and good behaviour on the rivers. 
Enjoy your ride!
***************************
GUIDE TO PROPER FLYFISHING PRACTICES
CHAPTER 1 – UNIQUE ENVIRONMENT: BEHAVIOUR BEYOND REPROACH!
Keeping the area clean is mandatory
Parking motorized vehicles
Respecting the area, facilities, and staff
One river, many uses
Shoreline residents
CHAPTER 2 – MEMORABLE EXPERIENCE, MANDATORY RULES
Managing sport fishing in Québec
Fishing licence + right of access = keys to the river!
Limited access sectors
Number of salmon permitted to catch and keep
What if we choose to catch and release?
Methods and areas to AVOID when fishing
Safely enjoying the sport
CHAPTER 3 – FLYFISHING ETIQUETTE: HAVING FUN AS PART OF THE RULES
Sharing the river: taking turns
When the battle begins…
Keep it down!
Handling live salmon with care
Canoeing
CHAPTER 4 – POST-FISHING RESPONSIBILITIES
Tagging salmon
Is it possible to catch a tagged salmon?
Registration of catches: why?
Registration of catches: how?
Exotic aquatic species
Keeping your equipment clean
Fight against poaching
CHAPITRE 4 – POST-FISHING RESPONSIBILITIES
Tagging salmon
Is it possible to catch a tagged salmon?
Registration of catches: why?
Registration of catches: how?
Exotic aquatic species
Keeping your equipment clean
Fight against poaching
CHAPTER 1 – UNIQUE ENVIRONMENT: BEHAVIOUR BEYOND REPROACH!
Keeping the area clean is mandatory
A salmon river is a unique ecosystem; therefore, the river and its banks must never be soiled. It is a matter of respecting other anglers, the management team, and most importantly, the salmon. Its habitat occupies the whole riverbed, from the bottom up to the high watermark where the aquatic plants gradually become land plants.  Even outside of flooding season, the lick of sand or stone is an integral part of the river. Whether you are in the river or on its banks, disposing of your garbage correctly (including broken flies, used leaders, small pieces or line, and cigarette butts) is mandatory procedure.
Parking motorized vehicles
You must always park in designated areas, or on the side of the road where your vehicle will not prevent traffic flow or pose a threat to your own safety. You must never approach the edge of the river with your vehicle when leaving the road.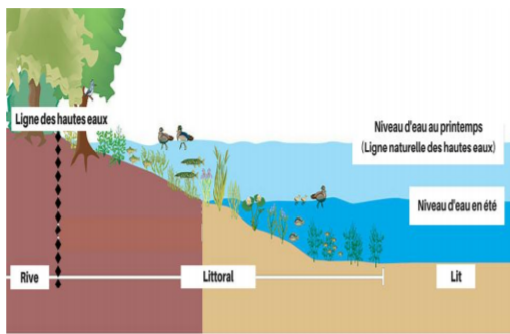 Source : Conseil de l'Eau Gaspésie Sud
Respecting the area, facilities, and staff
The river management team occasionally sets up useful facilities at the disposal of anglers: bathrooms, picnic tables, gazebos, fishing rod holders (only for flyfishing rods), etc. In sharing the area and respecting staff and volunteers, we are acting responsibly while showing our appreciation for the investments that provide us a better experience.
One river, many uses
The river in which you are fishing may be sought-after for other recreational uses: you may have to share the area with others. Stay cordial to your peers!
Shoreline residents
Certain rivers run along private property. It is because of agreements negotiated with riparian owners that anglers can enjoy the surrounding area. If those who use the river exhibit disrespectful behaviour towards the residents or their property, their rights will be revoked, and all anglers will be penalized for their lack of respect for private property.
CHAPTER 2 – MEMORABLE EXPERIENCE, MANDATORY RULES
To learn more about the regulations regarding salmon fishing in Quebec, click here.
Managing sport salmon fishing in Québec
The Ministry of Forests, Wildlife and Parks (MFWP) is responsible for managing salmon in Québec. The MFWP has established structured wildlife territories (controlled harvesting zones (ZEC) for salmon fishing, wildlife reserves, outfitting camps with exclusive rights) where it delegates the management of fishing activities to an organization or a business. This partnership is essential to the preservation of the species in Québec. To learn more, visit the following website.
Fishing licence + right of access = keys to the river!
Exceptional cases aside, did you know that in order to practice a fishing related activity in a salmon river (see article 25.1 of RPQ) during salmon fishing season, you must have a valid salmon fishing licence, even if your goal is to catch a different species?
Furthermore, did you know that there are many different types of licences? Three-day licences, annual licences for retention of salmon, mandatory release licences, etc. Additionally, under certain conditions, children and young adults between the ages of 18 to 24 can fish using a parent's licence, as it is a great way to initiate the next generation to a wonderful experience.
Once your fishing licence is signed, always keep it on hand. To learn all about salmon fishing licences, click here. Find out how to apply for your own!
In structured wildlife territories, a second document is required: the right of access. It has many purposes, such as proving that fees required to practice the activity have been paid, and, in some cases, identifying the area on the river that has been assigned to you (see following section). Issuing rights of access also allow us to track the river's occupancy, which, combined with the number of salmon caught and released, gives us an idea of the fishing success rate. This data proves to be an important management tool as it helps the MFWP estimate the abundance of populations in rivers where salmon are not counted. The right of access is an essential tool for wildlife officers and assistants alike to monitor fishing activities. It must be kept in plain sight on your dashboard or on hand while you practice your hobby, as you may be asked provide proof of it. Rights of access are available at entrance kiosks and occasionally online.
Limited access and designated sectors
Many rivers have limited access and designated sectors for which admission fees vary. In the case of limited access sectors, the number of anglers authorized to use the area each day is restricted. To frequent these sectors, it is usually required to win a draw or to accompany an angler who has won one. There are two types of draws: the preseason draw (November), and the daily draws which are held 48h before the scheduled fishing day. Winning a draw generally allows an angler to make a reservation for him or herself and another person. Consult the organizations in charge of fishing activities on the river of your choosing or take a look the Handbook on Salmon River Networks of Quebec available here.
Number of salmon permitted to catch and keep
Four. That is the maximum number of salmon that you can catch and keep per year. This strict rule is designed to protect the species and is enforced even when different fishing licences are combined (this is possible under certain conditions and can be very useful).
The length of a salmon that can be kept is different from one river to another and depends on the time of the year. We classify large salmon (over 63 cm long from the nose to the fork of the tail) and small salmon (less than 63 cm), also known as jack or grilse. The fishing licence allows for one large salmon to be kept per season. However, in Northern Québec, it is permitted to keep four salmon, regardless of their size. In any case, it is forbidden to catch and keep smolt measuring less than 30 cm.
River managers and outfitters are entirely aware of the regulations that apply to their territory, so do not hesitate to ask questions or to browse the MFFP's website, where all the information on rules regarding structured wildlife territories and designated sectors is available.
What if we choose to catch and release?
According to regulations, three releases are permitted each day, except in Northern Québec and Eastern Natashquan, where there is not fixed limit. While it is not mandatory to register the number of releases, doing so is necessary to help the territory manager ensure that the resource is bountiful and to promote quality fishing. Because the catching succès rate is a helpful management tool, it is important to know the number of salmon that are caught and released. 
Methods and areas to AVOID when fishing
It is strictly forbidden to fish from a bridge that passes over a salmon river or its estuary. Only flyfishing rods are permitted to use in salmon rivers (with a few rare exceptions). Specifics regarding fishing lines and types of flies are also applicable. To learn more, click on the following link.
Furthermore, fishing is practiced during the day, not at night. Between one hour after the sun sets and one hour before the sun rises, we let the salmon be…
Safely enjoying the sport
Salmon fishing is very physically demanding. Safety must be a top priority in order to enjoy such a wonderful experience.
A personal flotation device (PFD) is required when using a craft on the water. Even while fishing from the shore, wearing a PFD is highly recommended. If you choose to wear a waterproof stockingfoot (Waders), it must fit properly around your waist, with the jacket correctly adjusted over it, so it doesn't fill with water in case of a fall.
The riverbed is often slippery, whether you are on rocks or gravel. Therefore, it is critical that you wear slip-resistant boots. Currents can often be misleading and highly dangerous. Be vigilant, especially when struggling to pull out a salmon! The depth of a pool can fluctuate, creating strong currents that make it difficult to retrace your steps. If you must cross the river, it is best to do so in a diagonal line and to tread carefully. Certain secure locations are marked on the maps of the river or on the trails leading up to them. A walking stick can come in handy. As a safety precaution, it is highly recommended that you go fishing with another person.
Before you head out to one of Québec's many salmon rivers, consult the interactive maps available on the Saumon Québec website, where you will also find plenty of useful information to help make your time on the river worthwhile.
CHAPTER 3 – FLYFISHING ETIQUETTE: HAVING FUN AS PART OF THE RULES
Sharing th eriver: taking turns
Even when the river has many occupants, every angler can attempt their luck in the best spots by following a rotation system, the concept of which is to gradually move downstream (following the current) along the pool or the river.
You may have to move forward each time you cast your fly or after a certain amount of time according to the guidelines in effect in the river of your choosing. Some river managers favor a specific rotation time. You can usually find signs in the area surrounding the pools. Observe the other anglers, discuss with them, and adapt your pace. At the end of the rotation, resume your position upstream using the shore to avoid disturbing the others while keeping your distance from them to avoid being caught by their fly as they cast it.
For safety purposes, it is important to keep a safe distance between from other anglers. Attention dry fly users: casting your fly in a perpendicular line or upstream can disturb the other fishers. You must keep a safe distance.
If you have reeled in a salmon, you can take a break to change your fly while maintaining your position.
When the battle begins…
Everyone must remove their fly from the water once a salmon is struck. The lucky angler must then reel the fish out of the current and regain their position upstream at the start of the "line". However, if the angler loses its catch during the struggle, they can maintain their position.  
Keep it down!
Making noise when approaching a pool disturbs both the other anglers and salmon. Avoid going in the water too deeply and frightening the salmon.
Handling live salmon with care
When your intention is to release the salmon, it is critical that it remains in perfect health. Watch at the following video to observe proper catch and release techniques. Here are the 5 fundamental rules.
Duration – Avoid exhausting the salmon by limiting the duration of your struggle. To do so, you must remove it from the current as quickly as possible and make sure that the tension on the drag of your reel is properly adjusted. A spoon-net is also a practical tool to have on hand to remove salmon from the water.
Duration – Avoid exposing salmon to the open air while remove the hoor and taking pictures. Saving memories is great, but never at the expense of salmon.
Movement – Use a spoon-net made of soft material (avoid nylon) without knots. If you are using a fly with barbs, you can crush them to avoid harming the fish.
Movement – Handle the fish with care. Hold it with both hands: one above the caudal peduncle and the other under its abdomen. Keep it parallel to the current. Do not put your fingers in its eyes or its gills. Refrain from wearing gloves that could remove the salmon's scales or the protective mucus on its skin.
Movement – Make sure the salmon has recuperated from the struggle before releasing it. Put it in low to moderate current while keeping its nose against the current. You can release the salmon when it attempts to swim on its own. It is not necessary to move it back and forth.
These rules are crucial when the temperature is hot as the heat causes the water to be less oxygenated. Fishing activities could be moderated by limiting their scope to early in the morning and the end of the day during such distressing periods for the fish. 
Canoeing
You can fish from a watercraft on certain rivers. The same rotation system applies: maintain a safe distance of 15 to 18 meters between canoes and keep your craft in position for 30 minutes before drifting 7 to 12 meters away.
CHAPTER 4 – POST-FISHING RESPONSIBILITIES
Tagging salmon
You have successfully caught a salmon? Congratulations! Once the salmon is out of the water, you must immediately tag it. The tag must remain on the salmon up until you prepare it for consumption.
The tags come with your fishing licence. With an annual licence, use each tag in the order in which it is attached to your licence (the serial number of the first tag ending with 01, and so on for the second and third tag). The three tags at the bottom of the licence must be used to mark small salmon (also valid for large salmon in Northern Québec). As its title indicates, the upper tag can be used to keep one large salmon (if the rules in the area allow it). This tag can also be used on one small salmon. The three-day licence has an individual tag allowing you to keep a small salmon (or one large salmon in Northern Québec).
Beware! Even though the annual fishing licence allows you to keep four salmon, different rivers have different regulations that could obligate you to release all large salmon, or any catch, big or small. In rivers where keeping salmon is permitted, there may be a limited fishing quota (for example, two small salmon per day). It is up to the angler to look up and comply with the rules in effect in the river of their choosing.
The tag fastened to the salmon must be provided by the angler who struck the fish. Attach the tag using one the methods suggested bellow. Read your licence! You will find which procedure to follow.

Source : Gouvernment of Quebec
Registration of catches: why?
For scientific purposes and to manage the resource! Did you know that Québec is the only province in Canada where registering salmon is mandatory? This regulatory measure is required to know precisely how many salmon are removed from each river, which is essential to the proper management of the resource. Registered salmon are also weighed and measured; their gender is determined, and a sample of scales is collected. This data provides critical information on salmon populations and their evolution over time. For example, did you know most large salmon in Québec are females and most small salmon are males? To protect females, the MFWP promotes fishing rules that favour releasing large salmon back to the water and keeping small salmon.
Did you know that scale reading is a method used to estimate the age of a fish by establishing the number of years spent between river and sea?
Registration of catches: how?
You have 48h to register your catch once you leave your fishing location. A wildlife protection officer can also require immediate registration. In a structured wildlife territory, you can simply present your licence and your tagged salmon to a staff member. A hole will be punched in the tag, and the fish will be measured and weighed. In free access territory, you have to register your catch by calling the appropriate department.
When fishing in zones 23 and 24 in Northern Québec, you must carry a fishing logbook and register your catches with the outfitter who manages the territory. Generally, you must comply with specific regulations when fishing in remote areas. It is imperative that you familiarize yourself with the rules.
Exotic aquatic species
Certain foreign species inhabit our lakes and streams and can severely impact our native aquatic wildlife. One example being the presence of rainbow trout in salmon rivers. Anglers are welcome to keep this species as they have no effective catching limit in salmon rivers. However, it is still important to declare the number of fish you catch to the person managing the wildlife territory. Pay attention to other invasive species such as Eurasian Watermilfoil (alga) or giant hogweed (land plant). The latter can cause serious burns if it touches your skin. Please notify the river manager if you notice anything! You can also visit the website for the Department of Environment and Fight against climate change to learn more about their tool Sentinelle.
Become an observer for Saumon Québec. We are looking for anglers to report sightings of stripped bass or seal in or around salmon rivers for scientific research purposes.
Keeping your equipment clean
Certain types of algae, like Didymosphenia geminata commonly known as didymo), are microscopic plants that can disrupt the quality of the water and the health of the fish. Other diseases, parasites and invasive species threaten bodies of water in Québec. To prevent their spread from one river to another, it is important to carefully wash all your equipment, including flies, boots, soles, and watercraft. Soaking it in hot water; washing it using dish soap or bleach: the method you choose depends on the type of material you need to disinfect. Letting your equipment dry for 48 hours before using it in a different body of water is the ideal solution. The good news is that you don't have to systematically clean your equipment when fishing in the same river many days in a row.  
To learn all about didymo algae and equipment cleaning methods, click here.
Fight against poaching
All salmon anglers can contribute to the fight against poaching. Wildlife protection officers and assistants cannot be everywhere at once, so you can be the eyes on the river! If you witness any poaching incident or harmful activities toward wildlife and their habitat, report it to SOS Braconnage.