ETHICS FOR ANGLERS
Rules of ethics to be respected on Quebec's salmon rivers
RESPECT FOR THE ENVIRONMENT
WASTE MANAGEMENT
A salmon river is a unique place: the river and its surroundings must never be soiled or polluted.
It is mandatory to bring back your garbage (including broken flies, used leader material and tippets, cigarette butts, etc.) wherever you go along the river.
MOTOR VEHICLE PARKING
You must always park in the designated areas or, if not possible, on the side of the road without obstructing traffic and without risking your own safety. Under no circumstances are you allowed to bring your vehicle too close to or on the shore.
RESPECT FOR THE FACILITIES
River managers sometimes provide convenient facilities for anglers and other users: toilets, picnic tables, gazebos, rod holders, etc. Please respect the premises and the installations at your disposal. It is your duty to look after them.
ALWAYS KEEP YOUR EQUIPMENT CLEAN
To avoid the spread of plants, diseases, parasites, and invasive species from one river to another, you must allow your equipment to dry for 48 hours before using it in another river. If you don't have 48 hours before your next outing, you must clean your fishing gear, including flies, boots, soles and watercraft/boat. Hot water soaking, dish soap or bleach washing. To learn more, click  here.
Speaking of invasive species, if you come across Giant Hogweed (a terrestrial plant that can grow up to 3 metres tall), don't touch it! Giant hogweed can cause severe burns upon contact. Notify the river manager if you see any. You can learn how to recognize them at this link.
RESPECT FOR OTHERS
ONE RIVER, MANY USERS
The river you are fishing on may be coveted for other recreational activities, so you may have to cohabit with other users. To find out what activities are permitted or made available, check with the river manager. Please be courteous!
RIVERSIDE PROPERTY OWNERS
Some rivers flow along private property. It is thanks to agreements negotiated with the shoreline owners that anglers are able to access some of these areas. If, through their disrespectful behaviour, river users disturb riparian owners or their property, access to these areas may be lost and all anglers will be penalized for not respecting private property.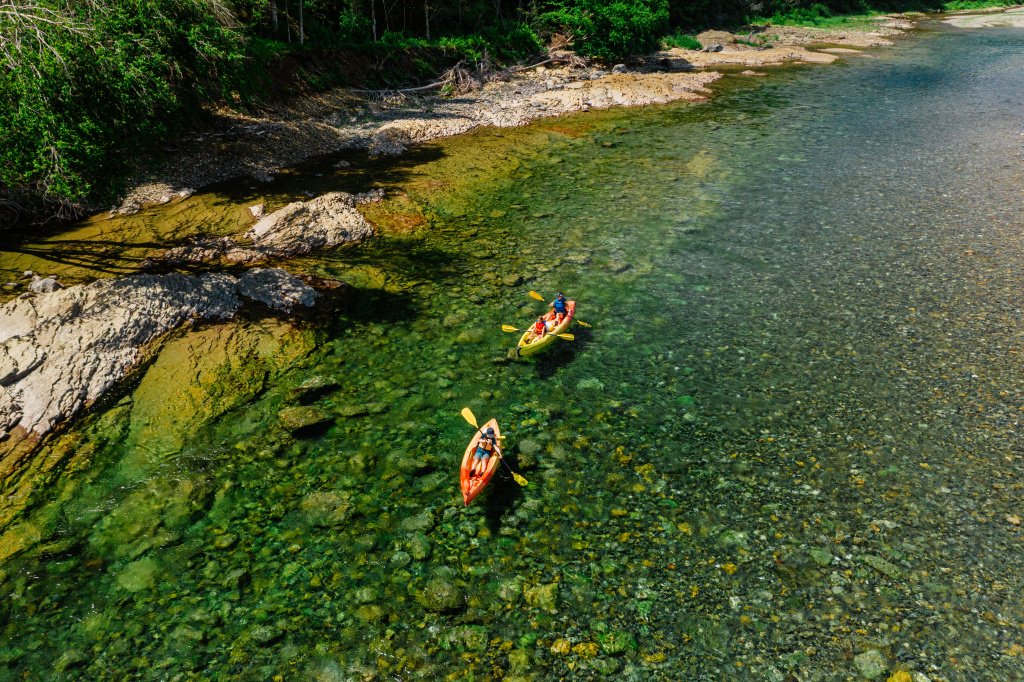 BETWEEN ANGLERS
TO EACH HIS TURN
All anglers are allowed to try their luck at the best fishing spots on the river while respecting a rotation system. The rule is to progressively work your way from the top of the pool down to the bottom (always in the direction of the current) along the pool or the river.
The pace at which you move down the river is about one step for each cast, depending on the recommendations for the river you are fishing on. Some river managers recommend predefined times for rotation.
Observe the other anglers, talk to them, and adapt your pace. At the end of the rotation, once you've fished through the pool, return to your spot upstream. Make sure you stay far enough behind the other anglers in action so as not to disturb them as you walk back.
WHEN THE FIGHT BEGINS
Everyone must take their line out of the water as soon as a salmon is hooked. The lucky angler fights his salmon before returning to his spot upstream at the start of the rotation. If he loses his salmon during the fight, he can keep his spot in the rotation.
BEING DISCREET
Making noise when approaching a pool disturbs both the anglers and the salmon. You should also avoid entering the water or wading too deep to avoid spooking the fish.
IN A CANOE
You can fish from a boat on certain rivers. The same principle of rotation applies—we allow a safe distance of 15 to 18 metres between the canoes, and we progressively fish our way down towards the tail end of the pool.

For more information, you can consult our Guide to Responsible Fishing Practices on Salmon Rivers.
SAFETY ON THE RIVER

The river, as beautiful as it is, is a force of nature and can be dangerous.
That's why, on the river, safety rules apply.