SALMON FOUNDATION
For Quebec's rivers

MISSION

The Salmon Foundation, formerly known as the F. de B. Gourdeau Foundation, has been working for more than 30 years for the salmon rivers of Quebec.
More specifically, its mission is to promote the protection and conservation of the salmon resource and its habitats, to educate youth and the public on the life cycle of the Atlantic salmon, and to promote the acquisition of scientific knowledge and the dissemination of research.
Our mandate
"HISTOIRE DE SAUMON" EDUCATIONAL PROGRAM
More than 60 participating elementary schools in the regions of Quebec
More than 15,000 young people informed about the life stages of salmon to date
RIVER PROTECTION ASSISTANCE FUND
Investment of over $300,000 since 2005
Contribution for the hiring of wildlife protection assistants and the purchase of protective equipment
CONSERVATION OF SALMON AND THEIR HABITATS
Funding of over 20 briefs related to salmon and habitat conservation
Investment in characterization of salmon habitats
PROMOTING CATCH AND RELEASE
Production of a video illustrating good practices
Training of guides and sensitization of managers and their employees to this practice
Donations support the conservation and protection of wild Atlantic salmon and their habitats. They will also enable the Foundation to continue its outreach, education and promotion of scientific research.
A charitable receipt is issued for all donations of $30 or more.
OUR ACTIONS
In November 2016, the FQSA completed two projects in collaboration with OBAKIR and the Société de gestion de la rivière Ouelle (SGRO), one on the protection of thermal refuges and the other on the characterization of spawning grounds.
These were funded by the Atlantic Salmon Conservation Foundation and the Salmon Foundation.
OUR EVENTS
Several events are held throughout the year to raise funds for the Salmon Foundation. From the annual cocktail dinners to the fall and spring online auctions, all proceeds from these activities are donated to the Foundation. The funds raised allow the Foundation to work towards the conservation and protection of Atlantic salmon and its habitats and to continue its activities of awareness, education and promotion of scientific research.
To learn more about each of our events, please visit our events tab.
You can also view our calendar.
ANNUAL FUNDRAISING CAMPAIGN
THE SALMON FOUNDATION NEEDS YOU!

Each year, the Salmon Foundation is able to carry out or finance numerous projects that have a direct or indirect impact on Atlantic salmon and the rivers they inhabit. The Foundation has been working for over 30 years for Quebec's rivers, promoting missions such as education, protection, conservation and promotion (catch and release).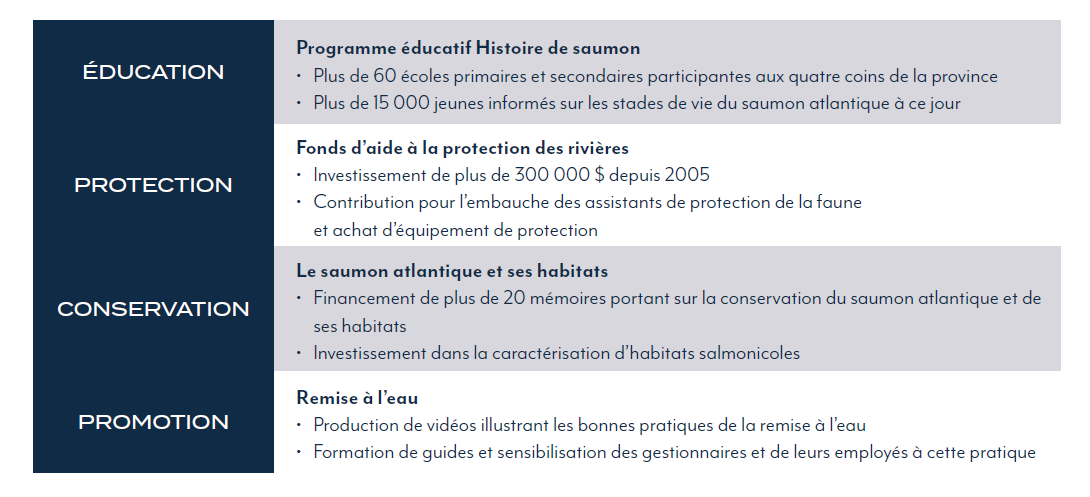 By orchestrating its annual fundraising campaign, which includes activities such as virtual or silent auctions, parties, cocktail parties, lotteries and others, the Salmon Foundation is able to support local organizations in the realization of their scientific projects. The purpose of these benefit activities is obviously to raise funds, which are then invested to help and structure special projects that focus on the salmon resource.
As an example, in the last two years, the Salmon Foundation has been able to work on these projects
Issues, concerns and possible solutions for the adaptation of the Quebec salmon fishing industry to climate change;
Impact of secondary roads on Atlantic salmon habitat;
Etc.
Today, the Salmon Foundation is asking for your help and support in its annual fundraising campaign. To do so, the Foundation is asking you to contribute by donating fishing, wildlife or outdoor activity packages, stays, experiences, "discovery" style packages or fishing equipment, etc.
By supporting the Salmon Foundation in its fundraising activities, you have the opportunity to showcase your organization and your services. This is a unique opportunity to promote your business.
Atlantic salmon fishing...
Is a privileged sector of activity that has been growing rapidly for over five years;
Is aimed at a targeted clientele in search of the most sought-after and prized prices and packages;
Has enthusiasts who are ready to do anything to push their skills to the limit.
In exchange for your donation to the Salmon Foundation, we will apply the following recognition policy. In this way, our collaboration is precise and clear, and the visibility granted is as optimal as possible. You benefit from all of our strengths, including those of the FQSA and its trademark, Saumon Québec.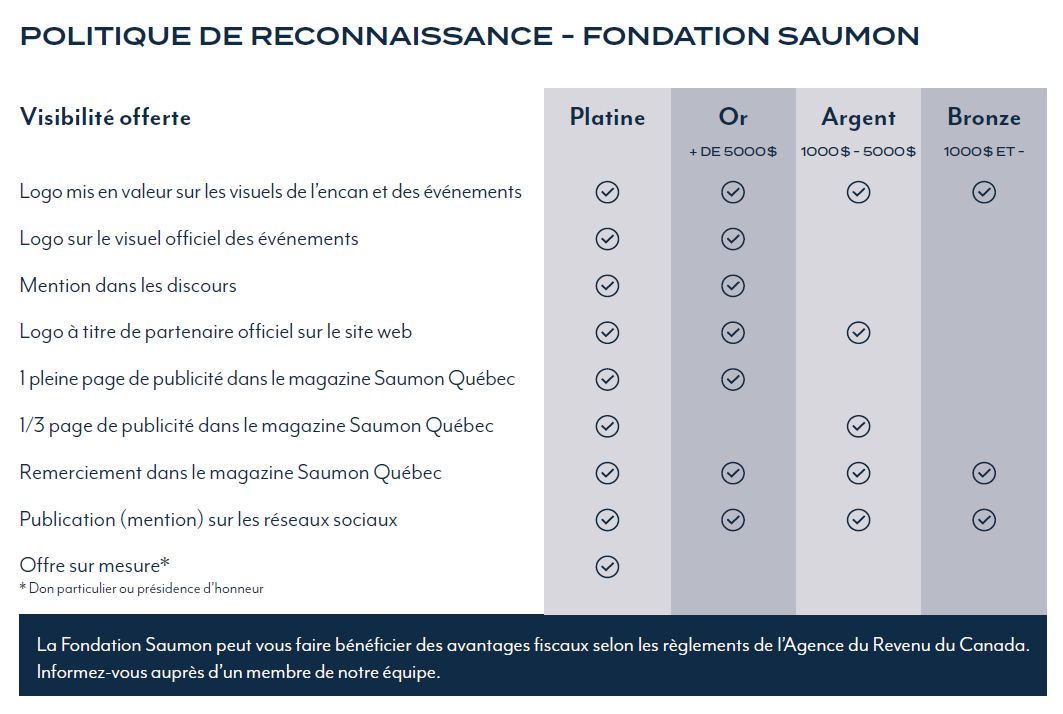 As this is an annual fundraising campaign, you will only be contacted once during the year, and your contributions will be used for all of our 2023-2024 activities.
We thank you for your time and hope to count you among our closest supporters.
I want to make a monetary donation to the Salmon Foundation
info@fondationsaumon.ca | 418.847.9191