THE JURY
The 2023 edition judges
WELL-KNOWN JUDGES
Flies will be judged by seasoned fly tyers! Here's a short introduction to our five judges:
Christian Carrier
For as long as he can remember, Christian has been tying flies for passion and leisure. For the past 15 years, he has been seriously involved in tying bomber flies, which has become more than a hobby for him. He is considered to be one of the best fly tyers in Quebec in this category. 
Lyne Trudeau
Since joining the Metropolitan Montreal Fly Tying Association in 1997, Lyne has participated in many Quebec and international fly tying shows and has become a member of the Board of Directors of the Fly Fishing Museum. She has also won several awards, including two bronze medals at the FQSA World Championships, a first place at the 2013 Granby competition, an honourable mention for her 7th place at Canada's 150th Confederation in Feather and fur 2017, and received an invitation to participate at the world level, ASFI-EXPO, The Atlantic Fly international 2018.

You can learn more about Lyne's background here and see some of her creations here.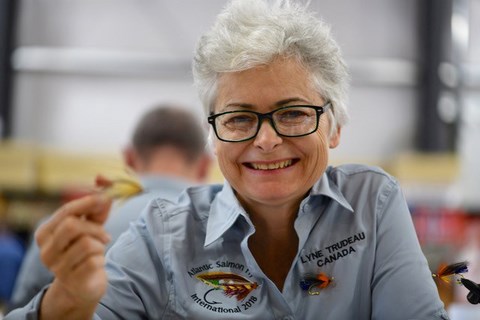 Fernand Grenier
Fernand Grenier has been a tying flies since he was a teenager. In 1998, he participated for the first time in the FQSA world championship in the "expert" category. He distinguished himself at this same competition in 1999 by taking the third place on the podium. Again in 1999 and 2000, he saw his flies published on the front page of the American magazine Wild Steelhead.
For 4 years now, he has been specializing in flies from old patterns and references (1830 to 1920). He likes this kind of challenge which pushes him to surpass himself in terms of technique and patience, sometimes needing to start tying a fly over again before being satisfied.

You can find some of his creations here.
Christian Bélanger
As a fly tyer for 23 years, Christian is best known for his nymph patterns. He ties all types of flies for all species of fish that swim in our waters. To this day, he ties hundreds of flies annually for his customers. Many of his regular customers appreciate the fact that he ties flies according to their personal requests. 
Louis Tanguay
A founding member of the Société Mauricienne des Pêcheurs à la mouche, Louis won the FQSA World Championship and later became a judge in the championship. He was also a member of the APSQ Classic Fly Evaluation Committee. He received the Paul Plante award and is a known fly fishing instructor.

You can learn more about Louis here and see some of his creations here.